30 Day Gut Check
The Next 30 Days Could Leave You Feeling Great And Looking Amazing!
100 Percent Risk-Free To Get Started.
Don't wait, start our 30-Day Gut Check Program today.
Join this program and your gym membership is FREE for the first month!
At 5280 Fitness and Sports Performance, we are real people who are focused on making a serious impact in the Westminster community.
---
Will You Be Our Next Success Story?
---
What's Included In Our Program
Check out how we "Bio Hack" your body to reset your body's fat burning hormones
FITNESS
Our fitness programs are carefully sequenced in a way that makes the workout not only fun, but it helps it fly by. We create programs that teach you to work smarter, not harder. This fitness plan is designed to boost the metabolic process while helping you build muscle and lose fat! The workouts will be delivered to your phone by our FREE fitness app.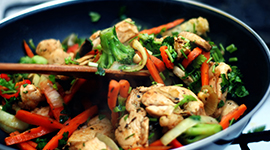 NUTRITION
We give you a custom meal plan that will make your body a fat burning machine. Our nutrition coaching provides you with exactly what you need given your body, schedule, and food preferences, so it is not only doable, but enjoyable. This program helps you map out your exact grocery list so you know what to buy at the grocery store and leave nothing to guesswork.
SEVEN-DAY DETOX
We focus on great tasting nutrient-rich foods that are designed to reduce bloating, trim a few pounds, clear up your skin, and reset that metabolism. These meals are packed with so many nutrients and fiber that your body will start to crave the "good stuff" that you are feeding it. Our seven-day detox is great for those who suffer from digestive issues.
ACCOUNTABILITY
Not only will you have access to our experts when you are in the gym working out, but you will also be able to contact to your personal accountability coach whenever you are in need of help, tips, advice, or just someone to give you some extra encouragement. At 5280 Fitness and Sports Performance, we want to help you succeed in every step of the process. Your personal accountability coach will also check in weekly to congratulate you on your success and help you stay on track.
Our Client's Success
Down 4lbs and 3.2% Body Fat
"Before I started this program I was in a slump. I couldn't get myself to do anything with exercise consistently. I was struggling with feeling embarrassed because I'm a health coach too. I help people all day long do this but wasn't making that connection myself. I felt like I didn't have that support system to keep me focused. Honestly before I started the program I was finding myself not recognizing who I was. I was constantly worried about wearing fitted clothing or taking full body pics. My jeans were barely fitting & really probably could have gone up a size but refused. It didn't seem like a lot but to me, being a former athlete and being use to a certain fit and not feeling that was a huge mental block for me, it brought alot of anxiety. NOW… I feel SOOO INCREDIBLE, I'm fitting in my clothes and most importantly feeling more like myself. I'm sleeping better(use to wake up every 3hrs) & have really bad anxiety. It's all under control and I feel really good for the first time in years. I couldn't be happier, I'll for sure be joining the next & will forever be grateful that this program was put together by some of my best friends. They are always there to tell me what I need to hear exactly how I need to hear it. #Round2 #committed" ~ Alina
Imagine How Much Better You Will Feel When You Focus On Being Healthy From The Inside Out
Without Going On A Calorie Strict Diet or Some Crazy Juice Cleanse
Sign Up To Get More Information Now!
No Risk | No Obligations | No Spam | No BS
PS – If you're anything like us, you just skipped to the end anyways, so here's the scoop – we want to help you get the best results possible and make your body a fat burning machine. All you have to do right now is fill out the form above.
We will be more than happy to answer any questions you have, but the only way you can complete the program is to fill out the form and be placed on the participant list.
Our intention is to help you achieve some amazing results and to give you a great experience, so much so that we hope you stay with our team and gym once you have completed the program. You're not obligated to stay with 5280 by any stretch, but most people stay with us because they love our fitness community so much – you've been warned. Don't be surprised if you fall in love with 5280 by the end of this program!